Tour of the French coastline 2018
Even though we regularly collect waste on the beaches all over the world, it keeps coming back. It's like the Danaïd's barrel, the more you empty it, the more it fills up.
How to alert people and make them understand that the cause must be treated: zero plastic?
To put the spotlight on water pollution right in front of our eyes, Rémi Camus had a simple idea: to swim along the French coastline.
Rémi Camus is an experienced swimmer who has achieved many feats in his life. Born in 1985 in the Cher region of France, from a very young age, he was passionate about swimming and nature, and embarked on daring expeditions: swimming down the Mekong River, running across Australia, ... 
During this last adventure, in the Australian desert, lacking water, he was very close to a fatal outcome. From then on, the preservation of water, a vital resource, became his fight.
Essential to life, it is a common good that must be preserved.
He is convinced that the protection of water is one of the major issues of our time because it is at the heart of many environmental, social and economic challenges. It is therefore urgent to take measures to protect it, guarantee its access to all, and fight against pollution and waste.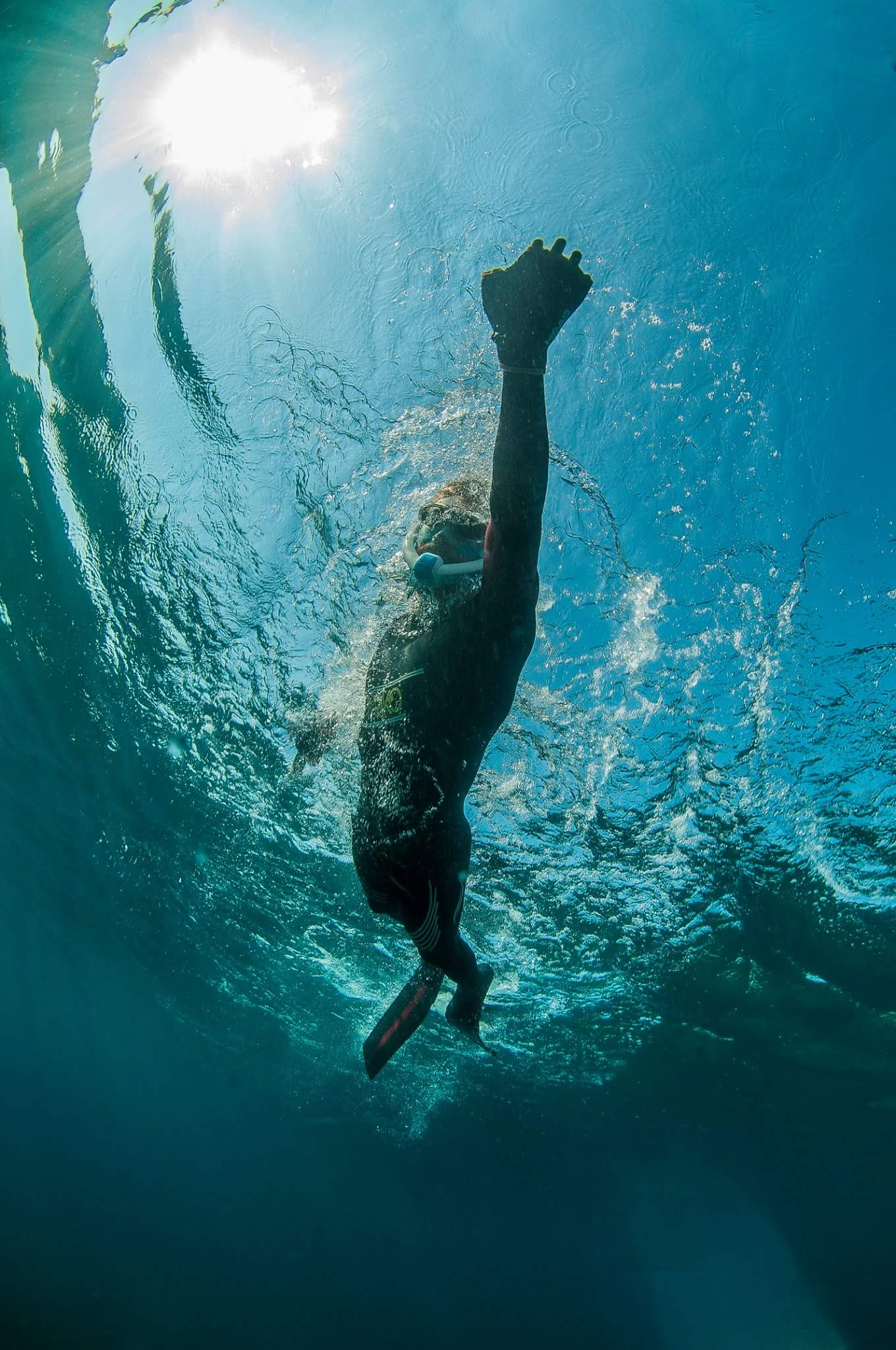 In 2018, Rémi contacted us because he was looking for a high-performance equipment made by a company that shared his environmental concerns. When he presented his project to us, we immediately agreed to provide him with fins as his objectives matched our values.
One of the brand's values is proximity: being close to our customers, our suppliers and our partners. But proximity also means taking care of the environment for which our fins are intended: water.
For more than 20 years, we have been manufacturing fins renowned for their quality and durability. Our manufacturing process is unique and allows us to considerably reduce waste compared to the traditional techniques used for composite materials.
This round-the-world finning trip was incredibly difficult. 
Rémi swam for almost 3 and a half months, over 2650 km, or 30 km per day. Starting from the north of France, in sometimes very difficult weather conditions, he swam in the cold waters of the English Channel, avoiding boats, facing the currents and tides of the Atlantic Ocean to finish his journey in the Mediterranean Sea.
The performance is equal to the suffering endured. In the water for 8 hours a day, he often swam in the middle of the waste and observed that everywhere, plastic was there.
Victim of irritations, sunburns, hypoglycemia and other health problems, he never gave up (a word that is not in his vocabulary).
He was not spared from technical problems either, such as a radio failure that prevented him from communicating with his team on land.
Logistics was also a major challenge. Exhausted by 8 hours of daily swimming, Rémi needed support to find places to sleep and to be supplied. Everything had been planned beforehand: precise itinerary, informed maritime authorities, food and everything necessary to swim and recover.
Beyond the physical challenge, it took enormous mental resources and organization to accomplish this feat.
But it was worth it!
Throughout his journey, he met passionate, committed and dedicated people to the cause of water, and worked with local and national organizations to promote this cause.
This challenge was above all a human adventure and an opportunity to promote his values of solidarity, commitment and respect for nature. 
In 2018, Rémi became the first man to paddle around the French coastline.